Experience the Engel & Völkers Brand
Competence, exclusivity and passion
Engel & Völkers is one of the world's leading real estate service providers - with a focus on brokering residential property and commercial real estate, as well as yachts and aircraft in the premium segment. The goal is to provide every one of its customers worldwide with the same high quality brand and service. This includes the white façade with the black front door and boxwood trees of the Engel & Völkers shop design. At the in-house academy, comprehensive knowledge about real estate marketing is imparted to everyone employed by the Engel & Völkers brand. We always provide our customers with expert advice about the right property, offer them an exclusive portfolio and work hard on their behalf on a daily basis to ensure their satisfaction.
Engel & Völkers is one of the world's leading service companies specialised in the sale and rental of premium residential property, commercial real estate, yachts and aircrafts. Thanks to our unique and constantly expanding network and the strength of our brand, we have access to an exclusive clientele. We feel most at home among discerning individuals. Our employees live the spirit of our brand with true passion.

Vision
We link together the aspirations of discerning individuals around the world, be it in private or a business context. With total passion.
Mission statement
In everything we do, we ensure the success of our company. For us, our mission statement is a binding promise. We take a long-term view in our dealings, strengthening the Engel & Völkers brand whilst taking care to ensure that customers all around the world enjoy the same brand experience. We value and cultivate our core values of competence, exclusivity and passion. We are serious about meeting the requirements of discerning customers, and we offer a first-class service. We attract the finest employees and help further their careers. We build a global network on behalf of our customers – and fill it with life. We are leading innovators in our field.
Marketing
Your added business value: our global partner network
- Our continually growing partner network with more than 1,000 locations in more than 30 countries offers you connections around the globe and mutual customer referrals
- You will benefit from access to top properties as well as wealthy private and corporate customers – even beyond your actual location
- You will also be able to offer your local customers top-class real estate in other countries right from the outset
- You are your own boss – yet at the same time part of a large family whose members support each other and pursue a common goal: to impress discerning customers with first-class services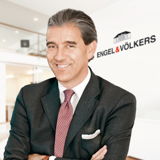 Christian Völkers
Christian Völkers is the Founder and Chairman of the Advisory Board of the Engel & Völkers Group. He set up the Hamburg-based company in 1977 with his friend and business partner Dirk Engel and has since developed Engel & Völkers into a global brand. Before entering the real estate industry, he trained as a maritime shipping administrator and studied Business Administration in Toronto, New York and Barcelona. Christian Völkers wrote the Engel & Völkers Manual, which forms the foundation stone for the company's worldwide franchise system and real estate Academy. In 1988, he founded an in-house publishing company known as "Grund Genug Verlag" and began producing the lifestyle and luxury magazine "GG". As a visionary and entrepreneur, Christian Völkers is always working on the enhancement of the company's service offer relating to all aspects of real estate. At present he is focused on business concepts for Engel & Völkers Venture Management GmbH.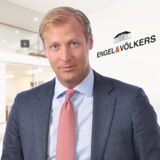 Sven Odia
Sven Odia began his career at Engel & Völkers in 1997. After completing his training as a real estate agent, he became an independent Licence Partner at the age of 22 and set up the very first real estate shop on Majorca, in Port d'Andratx. In 2006, Sven Odia was appointed to the Management Board of the Engel & Völkers Group, and between 2006 and 2014 he played a key role in the international expansion of the Group. Between 2014 and 2020, he undertook joint management of the company as Co-CEO, together with Christian Völkers. In this role he was responsible for all operational business including global expansion, the opening and management of the Market Centers, and digital transformation. Sven Odia has been the sole CEO of the Engel & Völkers Group since August 2020.
Florian Wieser
Florian Wieser has been Chief Financial Officer (CFO) at Engel & Völkers since March 2023. As Chief Financial Officer of Ceconomy and MediaMarktSaturn, he most recently succeeded in keeping the companies financially stable on course and sustainably strengthening the balance sheet structure in an extremely challenging environment in recent years. He now brings his many years of experience in retail and technology to the real estate industry and is responsible for Corporate Finance, Mergers & Acquisition, Accounting & Taxes and Controlling as well as Legal & Compliance at Engel & Völkers.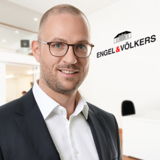 Dr. Rainer Klipp
Dr. Rainer Klipp has been Chief Digital Officer since September 2022 and is responsible for implementing the digitalisation strategy across the entire Engel & Völkers network. Before becoming part of the Engel & Völkers management team, Dr. Rainer Klipp was Managing Director at the CHECK24 Group - two years for the motor insurance division in Munich, two years for CHECK24 Ventures in Frankfurt and five years for the property insurance division, also in Frankfurt. His leading positions include Global Business Development at Deutsche Bank and the management consultancy Bain & Company.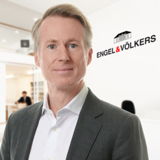 Christian Paul
Christian Paul has strengthened the management of Engel & Völkers as the new Chief Operating Officer (COO) since January 2023. He has already been heading Engel & Völkers Technology GmbH as Chief Digital Officer (CDO) since the beginning of 2022. Under his leadership, the company's CRM strategy was further expanded and the reorganisation in the tech area was initiated. As COO, he assumes responsibility for the entire operational business in Europe. In addition, he manages the Engel & Völkers Academy and steers the global implementation of transformation projects in order to bring the further professionalisation of the corporate group to the next level.
Commission revenues in million euros