Feeling good by doing good!
Where can I make a donation?
You will find a secure collection box in all Engel & Völkers shops and officers where partners are involved in our project in Togo. These collection boxes will be collected by the Engel & Völkers Charity e.V. once a year. 100% of all donations made will be put directly towards the project. Please visit one of our shops. We regret that donation receipts are not available for cash donations in the collection boxes.
What are the details of our donation account?
Engel & Völkers Charity e.V.
Deutsche Bank AG
Account no.: 07072 4000
Bank code: 200 700 00
Keyword: Togo
(BIC: DEUTDEHHXXX / IBAN: DE09 2007 0000 0070 7240 00)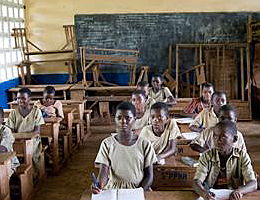 Who is entitled to a donation receipt?
In the case of donations from 50 euros upwards, you will receive a receipt of donation from the E&V Charity e.V., which you can then claim on when submitting your tax return. Please enter your name and address clearly on the remittance slip! These donation receipts will be sent annually at the end of each year.
Donation receipts are not available for cash donations placed in collecting boxes.
Donation receipts can be issued by the Engel & Völkers Charity e.V. for donations made from abroad. We have no influence however over the recognition of these receipts by local Tax Offices. We would ask for your understanding here!
How much of the money raised actually goes to the project itself?
100% of all donations received are put towards the establishment and long-term existence of the project in Agbetiko, Togo. We are able to make this promise to you, as all administrative costs, e.g. for labour and commercial expenses, will be carried by Engel & Völkers AG.
Who is responsible for ensuring that the funds raised are used effectively?
One reason why we decided to support this project in the long term is the family connection that Christian Völkers has to the project. The idea for the project came from Ingrid van Aalst (see image left), a family member of Christian Völkers. In coordination with us, the donations raised will be spent exclusively on the primary school project in Agbetiko, Togo.
We have managed to acquire a German construction management team for the building phase. The flight costs for the project management will be covered by the donations. The work on site will be on a voluntary basis. We would like to express our thanks for this additional support. We will be reporting on the progress of the project and on the work of the Committee for Village Development on a regular basis on this website
Contact us now
Vancouverstraße 2a

Germany

Fax:

+49(0)40 36 13 12 35